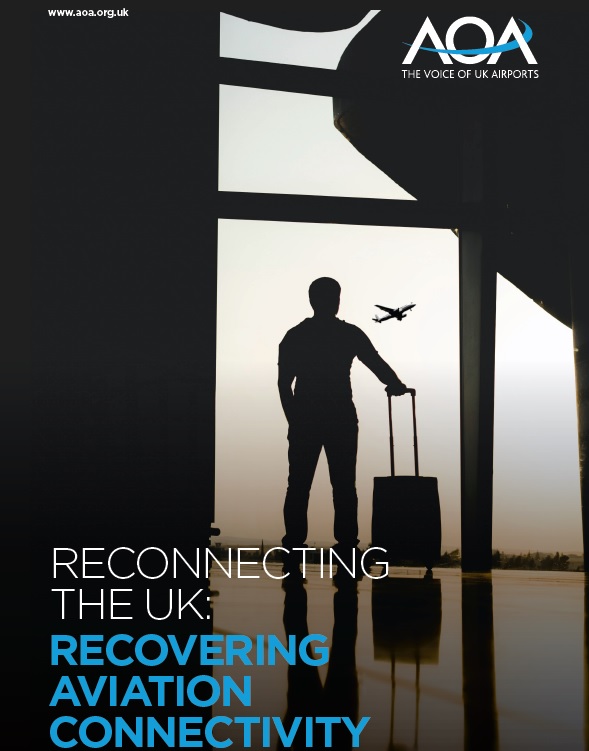 ADS Advance – Pandemic revenue losses at UK airports top £10bn
in aerospace
Today the Airport Operators Association (AOA) launched its 'Reconnecting the UK: Reclaiming Aviation Connectivity' report, highlighting the losses suffered by UK airports as a result of the COVID-19 pandemic .
Above:

Click here to access
Reconnecting the UK: restoring air connectivity

Courtesy AOA
The report shows that 2021 was worse than 2020, with airports recording the lowest passenger numbers since 1983. It outlines the challenge ahead for the UK to regain pre-pandemic air connectivity, as others reveal figures :
UK airports have lost £10bn in revenue since the first lockdown in March 2020 and have taken on more than £4bn in debt;

The number of passengers in 2021 decreased by 12.7% compared to 2020 to reach 64.3 million (1983: 61.1 million), while European airports recorded a higher number of passengers in 2021 than in 2020;

Airports in Germany, Italy, Ireland and the United States received nearly eight times more financial support than UK airports;

Tourism organizations across Europe are investing heavily in recovering pre-pandemic tourist numbers, while Visit Britain's 2022-23 budget is yet to be confirmed.
All of this puts UK airports at a competitive disadvantage as they seek to attract airlines back to flying routes from the UK. This is compounded by airlines planning to operate smaller fleets this summer, rising fuel prices and rising cost of living.
The AOA's Reconnecting the UK report highlights the urgent need for the UK and devolved governments to establish a comprehensive, short-term focused aviation recovery plan alongside longer-term aviation strategies term provided by the British and Scottish Government. Such a recovery plan should include:
A 12-month ODA leave to encourage airlines to restore routes to the UK;

A route development support programme, which could include the financing of airport charges on certain routes;

Increased UK tourism marketing budgets to match those of our competitors;

Introducing arrival duty free shops as Norway, Switzerland and other countries have already done and the EU is considering Calais to ensure the UK economy benefits from the recent increase in duty free personal.
Commenting, the chief executive of the Airport Operators Association, Karen Dee, said: "The pandemic has wreaked havoc on aviation in the two years since the first lockdown was announced.
"Airports have suffered huge losses in revenue and had to go into debt to maintain their operations. They are emerging from this pandemic in worse financial health than many of our European and US competitors, which puts the UK at a disadvantage to recover our pre-pandemic connectivity.
"The UK and devolved governments should establish a comprehensive package of aviation stimulus to increase the UK's chances of a successful recovery. We will be in fierce competition with other countries for the return of airlines and routes. We cannot afford for the UK to lag behind our global competitors.


"If the government fails to step up, the impacts are clear: people and businesses who depend on aviation for their own success will bear the heaviest burden, particularly outside of London and the south east of England. They will not be able to easily market their products and services, bring tourists and business visitors to the UK or invest in their local community.
Further commenting, the President of the Airport Operators Association, Baroness Ruby McGregor-Smith: "The leveling and global ambitions of the British Government in Britain will not happen unless aviation can successfully recover and bring back the roads that businesses rely on for their economic success.


"With our competitors investing heavily in their airports during the pandemic and for their recovery, the UK risks being overwhelmed. This is why an aviation recovery plan is crucial to maintain the position and the network of global air routes from the UK before the pandemic.


"Similarly, the UK and devolved governments must step up and do more to keep critical aviation skills in the UK."