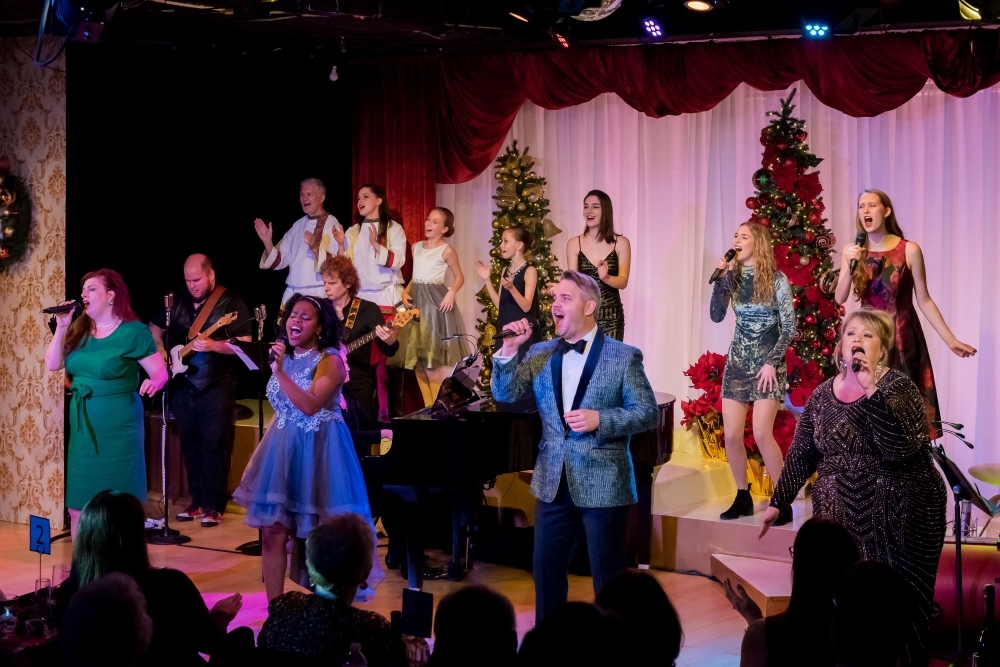 Holiday events and more to do in December in the Lake Travis and Westlake areas
"A Cool Yule: A Swingin 'Holiday Cabaret" is a nine-year tradition featuring iconic holiday music popularized by Elvis, Stevie Wonder, Michael Buble and more. (Courtesy of TexARTS)
Here are several events in the region that will take place over the next month.
Until December 24 | Shopping at a Holiday Market
Visit the Hill Country Galleria to see the Central Plaza transformed with home goods, jewelry, art vendors and more until Christmas. Daily holiday shows will be held at the Central Plaza pavilion, with synchronized tree light shows, holiday exhibits, and photo opportunities. Hours vary for events from the game to Saturday. To free. 12700 Hill Country Blvd., Bee Cave. 512-263-0001. www.hillcountrygalleria.com/events
Until January 2 | Walk the path of lights
The Town of Lakeway hosts its annual Lakeway Trail of Lights to light up the walking trails next to Town Hall in December. Visitors can access the trail with thousands of lights at the Lakeway Activity Center. 6 p.m. to midnight. To free. 1102 Lohmans Crossing Road. 512-314-7532. www.lakeway-tx.gov/721/trail-of-lights
Until February 4 | Visit an exhibit of local handcrafted jewelry
An exhibition and sale of handmade fine art jewelry created by three local goldsmiths will be on display at The Hive in the Hill Country Galleria through February 4. "which will include necklaces, bracelets, rings and more. 7 p.m. Free. 12700, boul. Hill Country, Ste. T125, Grotte des Abeilles. 512-522-9467. https://beecavearts.foundation/events
December 13 | Dance the night away
The Lakeway Activity Center hosts the Big Band Bash with 17 musicians from the Republic of Texas Big Band. Visitors can bring their own drinks and snacks to enjoy the music and have fun. The event is open to all ages and the group accepts donations after the show. 7 p.m. Free. 105 Cross Creek, Lakeway. 512-261-1010. www.lakeway-tx.gov/1880/big-band-bash
December 16 | Eat drink and be happy
The Granduca Austin Hotel will host the Let It Snow Long Table Dinner. Guests can enjoy Italian cuisine and wines with a multi-course family meal at the hotel's Visconti Ristroante. 5 p.m. to 9 p.m. $ 125. Granduca Austin Hotel, Visconti Ristorante & Bar, 320 S. Capital of Texas Hwy., Bldg. B, Austin. 512-306-6400. www.granducaaustin.com
December 16-19 | Attend a holiday cabaret
The TexARTS Theater celebrates the holiday season with "A Cool Yule: A Swingin 'Holiday Cabaret," a nine-year tradition featuring iconic holiday music. 7:30 p.m. (Dec. 16-18), 2 p.m. (Dec. 19). $ 45. Kam & James Morris Theater at TexARTS, 2300 Lohmans Spur, Ste. 160, Lakeway. 512-852-9079. www.tex-arts.org
December 20 | Let the kids get cunning
Artful Kids Club will be hosting a Vacation Art Camp for ages 5 to 12 at the Hill Country Galleria. Children will build handcrafted works of art as gifts for friends and family. 9 am-3pm. $ 75 to $ 120. 12700, boul. Hill Country, Ste. T125, Austin. 949-274-5553. Eventbrite: Holiday Art Camp: Monday
LIVE MUSIC
Angel's Ice House, 21815 Hwy. 71, spice wood
www.angelsicehouse.com
December 18: Jennifer Foster and Robert Parker Jr., 7 to 11 p.m.
Iron Wolf Ranch and Distillery, 101 CR 409, Spicewood
512-970-3203
www.ironwolfranch.com
December 18: Robert Wagner, 2 p.m. to 5 p.m.
December 20: Robert Wagner, 2 p.m. to 5 p.m.
Poodie Roadhouse, 22308 Hwy. 71, spice wood
512-264-0318
www.poodies.net
December 17: Van Wilks, 8 p.m.
January 7: Dale Watson, 10:30 p.m.