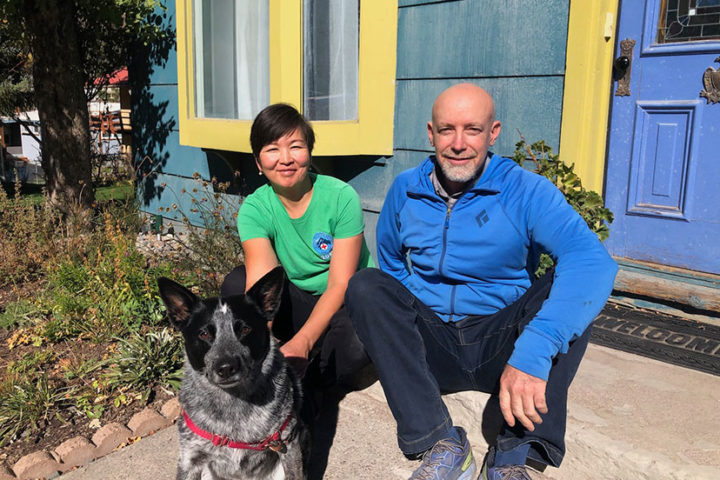 Local Vacation Rental Owners in Ouray, Colorado… Part 1
[ad_1]
This story by Liz Teitz was shared by OurayNews.com on Oct 28, 2021.
As soon as Dolgio Nergui and Dan Hughes started looking for houses in Ouray, the problem was clear: without another source of income, it was not going to be feasible.
"When you buy a house here, you are trying to make it work," Nergui said. "Every place we looked, it felt like we needed to get some kind of rental income."
They limited their search to houses with spaces they could rent, ultimately purchasing the house they were renting on Third Avenue when their owner decided to sell in 2016. The house needed a lot of work, which increased the cost. cost, but could be easily changed. to seal the floor as a separate unit.
"It's our way of creating affordable housing for ourselves," said Hughes.
But in conversations about short-term rentals, they feel like their situation has been misunderstood or overlooked. They live here full time, work for Ouray County, and volunteer with the Ouray Mountain Rescue Team, but "we're grouped together with side owners," said Hughes.
The conversation about short-term rentals in Ouray has often focused recently on out-of-state buyers. Some opponents of vacation rental limits have said homes will remain empty, focusing on those who don't live here full time, while supporters say their unchecked growth is worsening the housing shortage. City council approved a cap on licenses at 120, with limited exceptions, and proposed a 15% excise tax on the room rate per night to go before voters this fall. Half of the tax revenue will go to the city's water and wastewater treatment plant projects, and the other half will go to an affordable housing fund for future projects.
If approved, it is expected to bring in over $ 350,000 per year, based on 2020 rental activity.
Airbnb currently collects taxes on reservations for more than 50 Colorado municipalities, including Durango, Glenwood Springs, and Gunnison. A 15% tax would be higher than any other local taxes the company currently collects; the second highest is the 10.75% lodging tax in Denver.
Ouray does not currently collect taxes through Airbnb or VRBO, the most popular vacation rental platforms; the owners must remit the taxes themselves to the city directly.
The city currently has 112 short-term rental licenses that are either active or in the process of being renewed, according to community development coordinator Lily Oswald. The majority of them are held by people who do not live in Ouray. Some of the licensed residents are renting space in their own homes, while others are residents who own multiple properties, including several local business owners.
If the measure is passed, Nergui and Hughes expect them to likely bear the increased costs. While some have said visitors will pay higher prices to cover the new tax, Hughes doesn't think they could increase their rates by 15%.
"We would probably have to eat that," he said.
He believes this will likely make guests stay out of town, if they can stay somewhere cheaper in the county. "It puts us at a disadvantage," he said.
The money they got from short-term rentals helped cover their mortgage and pay for repairs to the house, which was built in 1898. When they first bought the house, they bought it. tried to rent longer term but struggled with the inconsistency of people moving between seasons. The upstairs unit does not have its own kitchen which also caused some issues. Practically and financially, short-term rentals made more sense.
They are open to a tax hike, they said, but called the 15% jump too steep, and they support a cap, especially one that prioritizes primary owners over primary owners. secondary owners.
Despite running a rental that relies on tourists, the two have asked how the county is currently spending accommodation taxes to promote Ouray, and they are skeptical of paying the city more money without a plan on how. the affordable housing fund will be used.
Nergui, who was on the city committee tasked with developing current short-term rental regulations, said animosity towards vacation rental owners was not new. But she believes the current discussion has sidestepped the larger issues of the city's housing shortage, with rentals becoming an easy scapegoat for more complex housing issues.
"If you say, 'Oh, I have a VRBO,' you kind of say, 'Oh, I have the plague,'" said Paige Sackman, who lives just outside of town and owns a short term rental on top of it. business on the main street.
Sackman bought the Ago Gallery in 2015 from his college art teacher, who used the second floor as a vacation rental. While she was initially worried about taking over the rental and that the gallery would be too much on top of her work at the Ouray school, the apartment made it possible to keep the gallery open.
"It keeps the mortgage on this building," she said. "I don't know if this store would be [be] enough. "Long-term rentals wouldn't make that much money, she said, and she is worried about property damage and wear and tear.
"I was born and raised here, and I love that I can keep this business for as long as possible, and I hope that maybe someday this will be something my sons would like to have," said she declared.
Before the previous owner started offering short-term rentals, there was office space on the second floor, Sackman said, so she doesn't view this as accommodation that has never been there.
She's more concerned with the proliferation of second homes that sit empty most of the time, though she's skeptical of reversing a trend that's already underway.
"What do we do for the secondary owners who leave it vacant?" she said.
Sackman called the tax measure an attempt at a quick fix, the result of pressure to do something quickly; but although she opposes it, she cannot vote against it, as her own house is outside the city limits.
She would like to see more coordination between city, town and county, both in terms of rent regulation and housing increases.
"I feel like our housing is a county wide issue," she said.
Read the second part, tomorrow …
Post a contributor
The Pagosa Daily Post welcomes submissions, photos, letters and videos from people who love Pagosa Springs, Colorado. Call 970-903-2673 or email [email protected]
[ad_2]