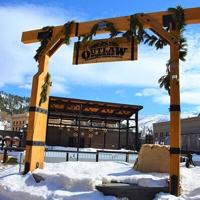 Outlaw Square IDB Source of Funding # 9 Proposed Boundary Changes | Local news
DEADWOOD – On December 6, the Town of Deadwood Commission approved at first reading a Business Improvement District (BID) Amendment Order 9, which helps fund Outlaw Square.
"Anytime a BID district changes, it should be brought to your attention as a change in ordinance," said Jessicca McKeown, City of Deadwood finance officer. "BID 9 was specially created to support Outlaw Square. There is a BID board that authorizes these expenses and we are only an intermediary, collecting.
Two properties are no longer part of BID # 9 – Black Hills Inn & Suites and Trucano B&B.
"There are two that are being deleted, simply because their use has changed direction, so that they are no longer eligible for overnight rentals," McKeown said. "Then we have a few additions. Branch House is added to Group 1. The Lodge is added to Group 2 and Saloon 10 is a non-transitory property.
A business tax of $ 2 per night is imposed on passing guests based on rooms rented by properties in Group 1, which also includes: The Celebrity Hotel, Deadwood Cottages at 390 Main Street and 388 Main Street , Deadwood Miners and Deadwood Rentals.
A business tax of $ 1 per night is imposed on passing guests based on rooms rented by establishments in Group 2, which also includes: Bullock Hospitality, Deadwood Gulch Gaming Resort, Deadwood Mountain Grand, Deadwood Station, Doubletree by Hilton, First Gold Hotel / Travelodge, Four Points Hotel, Franklin Hotel, Gold Dust Hotel / Pineview, Gold Country Inn, Hampton Inn at Tin Lizzie, Hickok's Hotel & Casino, Holiday Inn Express, Iron Horse Inn, SpringHill Suites by Marriott, Tru by Hilton .
A general occupancy tax based on the front linear footage of the following non-player establishments will be billed in the following amounts: $ 50 per month for each establishment without accommodation that has 30 linear feet or less of front yardage and $ 75 per month for each non-accommodation establishment with more than 30 linear feet of front facade.
An annual administration fee of $ 10,000 is paid to the Town of Deadwood finance department to offset legal and administrative costs.
The second reading of the ordinance is scheduled for December 20. Collections for the new entity list will begin in January.
To read all of today's stories, Click here or call 642-2761 to subscribe to our electronic edition or home delivery.