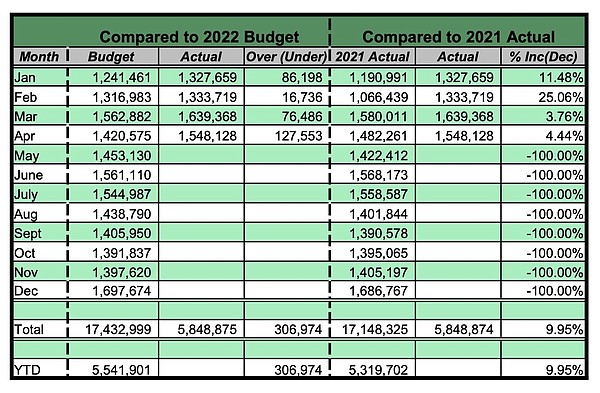 Sales tax growth slows in March and April
Second-quarter collections of the City of Hot Springs' 1% general fund sales tax continued the modest pace that concluded the first quarter.
The city reported a 4.44% increase in collections in April, the second consecutive year-over-year increase of less than 5%. The city posted double-digit year-over-year gains in 11 of the 12 months from March 2021 to February 2022. That March's 3.76% gain ended five consecutive months double-digit increases. April marked the 14th consecutive month of year-over-year gains.
The $4,300,745 in tax collected in the first quarter exceeded the same period of 2021 by 12.07%, or $463,305, thanks to a buoyant February. Collections increased by more than 25% as a winter storm closed city offices, schools and many businesses for about a week in February 2021.
The $5,848,874 in tax collected in the first four months of 2022 exceeded the same period of 2021 by 9.95%, or $529,172. Collections exceeded budget 2022 revenue projections by 5.54%, or $306,974. The budget provided $17,432,999 in general fundraising, a 2% increase over last year's record total.
Monthly financial statements the Hot Springs board filed last week showed general fund revenues exceeded expenses by $2,825,783 over four months. Net revenue through April beat the same period of 2021 by more than $1.5 million, or 130%.
Double-digit gains in recoveries of the 3% sales tax levied by the Hot Springs Advertising and Promotion Commission on prepared meals and lodging in the city continued in April, rising 25.10%, or $179,993, compared to the previous April. The $2,992,045 in tax collected in the first third of the year beat the same period of 2021 by 25.51%, or $608,279.
The local economy added jobs on an annual basis for the 14th straight month in May, according to the U.S. Bureau of Labor Statistics' preliminary employment report. The Hot Springs Metropolitan Statistical Area added 900 jobs. The 39,500 jobs were the most since March 2020. More than 1,100 jobs per month have been added on average since last April.
The year-long recovery followed a 12-month contraction from April 2020 to March 2021, with the metro area losing more than 2,400 jobs per month on average.
The metro area had an unemployment rate of 3.8% in April, according to the BLS preliminary report. This is the lowest of the year and the ninth consecutive month below the 5% mark. The 41,009 people in the labor force were the highest since last summer. The BLS defines the civilian workforce as those 16 years of age and older who are working or actively seeking employment.