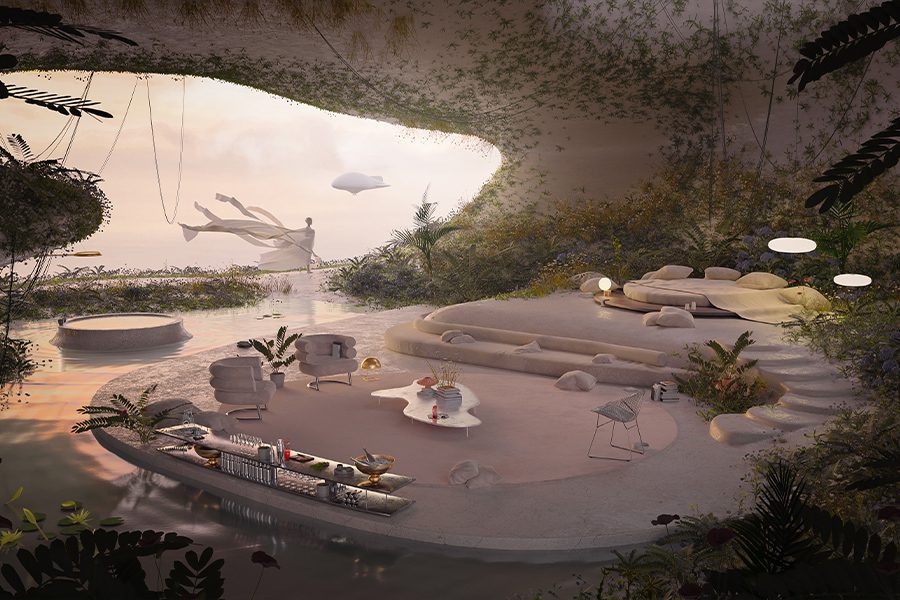 The hospitality industry is entering the metaverse
The new frontier of design is happening in the metaverse, a term loosely defined as cyberspace or the 3D internet. Space has given businesses the freedom to think beyond the physical world and work with technologies, including virtual and augmented reality, that marry our reality with a digital reality.
Consider citizenM, which is the first hotel group to buy LAND in the Sandbox, a digital real estate on the Ethereum blockchain (the hotel is funded by 2,000 tokens redeemable for real-life stays). The virtual destination will not only showcase and sell future non-fungible tokens (NFTs) commissioned by emerging talent in the world of digital art, but will be funded by the sale of an exclusive NFT collection. (NFTs are a unique blockchain code tied to a digital asset that can be bought, sold, and traded online using either crypto or traditional currency.)
CitizenM also plans to direct proceeds from these sales to fund a real-world hotel in a location voted for by NFT holders, creating a getaway for the people and by the people. "The metaverse is a new acceleration of a dynamic that has been emerging for years, in which our digital and real lives merge," explains Robin Chadha, marketing director of citizenM. "It's a dynamic that the traditional hospitality industry doesn't respond to adequately. It is our responsibility to welcome our customers where they are.
NFTs were originally created to represent real objects in virtual worlds such as Decentraland, Sandbox, Bapesworld, and even Second Life, the metaverse where Starwood launched the Aloft brand in 2006. NFTs have also become popular for providing proof of property for digital. art. The same principle can apply to ownership of architectural, interior and digital product designs. Economist and financial analyst Adonis Zachariades co-founded Renovi, a company that creates architectural NFTs and aims to become the only marketplace where architects sell their designs across all metaverse platforms. "Somebody has to take a stand for architects," he says. "We want to create a space where they can share ideas and collaborate. Architects are already using the necessary tools for the metaverse. With the help of his brother Stavros Zachariades, who is Renovi's senior architectural adviser and associate architect at London-based Squire & Partners, Renovi currently has around 200 NFTs, and at Decentraland's first-ever Fashion Week, he brought brands like DKNY and Diageo to life.
While metaverse hotels can be an expensive marketing tactic, next-gen utility NFTs offer tangible rewards to their owners — and hotel brands — by bridging the real and virtual worlds. Consulting firm Web3 Connecting Roads leverages its experience in glamping, luxury hotels and music festivals to create NFT-led programs that build community loyalty. "With NFTs, we can continually reward and surprise people with upgrades, unlockable content, and incentives for future experiences," says co-founder Dylan Barahona. Token holders enjoy membership benefits such as priority access, exclusive events, and smart digital tickets that cannot be counterfeited as they use unbreakable blockchain technology.
Other hotel properties are also taking advantage of this new technology. Manhattan's NoMo Soho, for example, sells NFTs redeemable for three- to six-night tours and upgrades. NFT art options include the Lovewall in NoMo Kitchen and the Tunnel of Love, the iconic arch at the hotel's main entrance.
Furthermore, IThe ifestyle LEVEN hotel brand will also make a name for itself in the metaverse this fall thanks to a new partnership with investment vehicle Branco Capital. The brand, whose first physical property debuted in Manchester, UK, last year, will showcase its virtual hotel in the Fashion Street Estate of virtual world Decentraland. "We see an opportunity in the metaverse to connect with new audiences and bring like-minded people together in a space created with LEVEN's values ​​in mind," said co-founder Timothy Griffin. The LEVENverse hotel will embody an organic shape as sculpted by the wind to offer many openings on public spaces and housing. "You discover everything that makes the real LEVEN special," he says, "yet oversized: inspiring design, unexpected whimsical moments, and opportunities to make meaningful connections."
Ken Patel is the founder and president of EV Hotel Corporation, a crypto and tech hotel brand that leverages innovation and technology to make things easier for guests and employees. Starting in February 2023, the first Evolution Venue (EV) hotel with a digital release at Bapesworld will replicate certain features of the physical Phoenix property designed by a New York-based architect. Mancini Duffy and Atlanta-based interior firm The Sims Patrick Studio. "We need to match innovation with technology," says Patel. "People get confused and think technology is going to replace humans. Technology doesn't replace humans. We create innovations that take the strain off employees.
NFT holders will receive benefits such as free stays and food, as well as access to the crypto ballroom, a partnership with the crypto exchange (similar to the New York Stock Exchange) that will create the first-ever commercial floor inside the hotel allowing guests to buy, sell and trade crypto . "Bringing together the worlds of hospitality, crypto and NFT is definitely coming, so will you get started now, or in two to three years will you wonder why you waited?" Patel request.
"The metaverse," he says, "is going to change lives."
Hear Patel share more insights during "The HD Forecast: Tracking Shifts and Innovation" panel, available for CEU credits through the HD Expo + Conference OnDemand library.