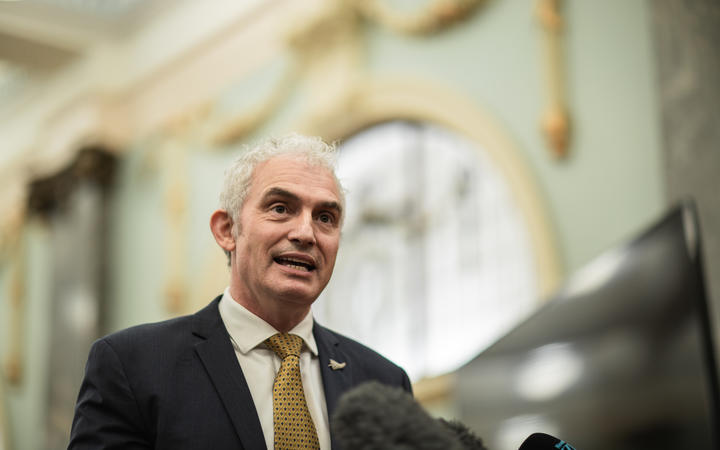 "Tourism can no longer be built on the back of cheap labour" – Stuart Nash
The tourism sector can no longer be built on the back of cheap labor and must do better, said Minister Stuart Nash.
Nash told the Virtual Otago Tourism Policy School on Friday morning that the industry must strive to become a regenerative industry, which also meant improving staffing practices as well as the environment.
Workers in tourist towns often face high living costs, but their salaries may not reflect this and it is not sustainable, he said.
He was challenged by some tourism executives present at the conference who raised concerns about the costs being passed on to visitors and the implications of increased wages.
The country's median wage is $27 per hour, which impacts work visa requirements and conditions on essential skills.
"You know I have no problem with people operating at the first echelon in the tourism sector earning $27.
"If that means people have to raise their prices for tourists, so be it. But as far as I'm concerned, tourism can no longer be built on the back of cheap labour. "
The government's tourism industry transformation plan agenda would tackle systemic labor issues with a draft action plan due later this year, he said.
He acknowledged there were plenty of operators doing a great job for their staff, but said the report would not shy away from highlighting uncomfortable truths where there were poor employment practices.
"Current reality should not prevent making changes overdue. I recognize that, of course, for many tourism operators, just keeping the money coming in has been a huge challenge over the past two years" , Nash said.
"So this conversation may seem to come at a difficult time. But a continued 'race to the bottom' with low wages and poor conditions won't serve anyone well. Let alone workers.
"This is an opportunity for the industry to commit to building back on a better model. And the government will support operators to make it happen."
He threw a gauntlet at all tourism businesses to actively participate in a rejuvenated New Zealand brand.
"To think about how you present yourself to visitors, how you support your employees, and think about ways to strengthen your connection to your communities and our wonderful surroundings," Nash said.
"Because if we don't 'live the brand', we'll never be the first destination we want to be. If we're mediocre in our service delivery, no crazy scenery and breathtaking experiences will lift us above over many other destinations around the world."
He also went into more detail about targeting "high value" visitors, saying it was separate from high net worth.
"My thoughts on 'high value' do not exclude backpackers or budget conscious travellers. They will always be welcome and that is why we have moved quickly to reopen Working Holiday visa applications," said Nash.
"High-value tourism, to be clear, is the framework we take for our international marketing activities. High-value, high-quality visitors give more than they receive. They travel through the seasons and through regions.They are environmentally conscious and seek to offset carbon emissions.
"They respect local communities and cultures. They appreciate the effort and intrinsic value of the local workforce members they meet. They want to learn about local history and culture and try new things. experiences. He's a high-value tourist."
Nash also wanted to ensure more work was underway with destination management plans, saying they were crucial to the sector and to its social license to operate.
Regional Tourism Organizations (ORTs) have received over $40 million over the past two years to develop these plans to prioritize regenerative practices.
"I have to be absolutely direct with you – I was surprised to learn that less than half of our RTOs have completed their Destination Management Plans after two years. I urge RTOs to complete these plans as soon as possible, for our common good.
"We will be watching the restart of tourism in your communities closely. I look forward to seeing tourism flourish again in places where it has been sorely lacking – and for those communities to embrace it as well."
He outlined the second phase of the industry's transformation plan which would focus on the environmental impact of tourism and would begin later this year.
Aotearoa Circle would produce a climate change adaptation roadmap for the tourism industry.
Nash said climate change would cause massive changes to the physical environment on which the tourism industry so heavily depended.
"We are already seeing this happening with extreme weather events, and soon we will see access issues, rising sea levels and steadily decreasing snowfall.
"As well as improving their regeneration credentials, many in the tourism industry will also need to adapt to changing consumer behaviors, such as visitors becoming increasingly aware of their carbon footprint. personal, especially since New Zealand is so far from some of our key markets."