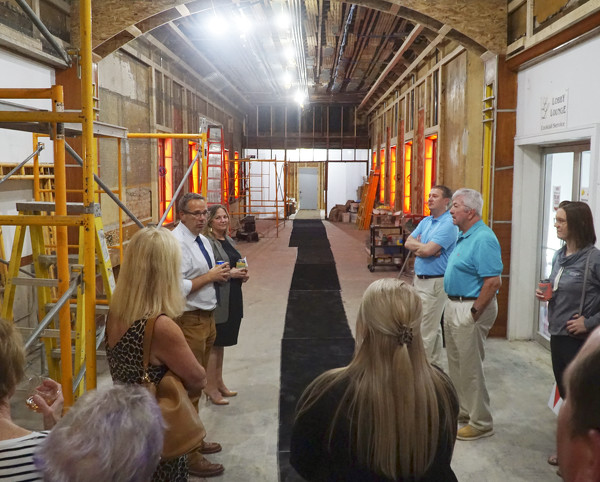 Tourism in the region returns | The Daily Standard Stories
Friday, May 13, 2022
Businesses have been impacted by COVID
By Leslie Gartrell
Photo by Leslie Gartrell/The Daily Standard
ST. MARYS – Tourism is rebounding in Mercer and Auglaize counties, according to area tourism officials.
At the Greater Grand Lake Region Visitors Center's annual awards reception on Thursday, Executive Director Donna Grube reported on tourism numbers in 2021 and highlighted some area attractions. The Stahr Award recipients and Ambassador of the Year were also featured at the reception held at the St. Marys Theater and Grand Opera House, which is undergoing extensive renovations.
Grube reported that accommodation collections rose 31% in 2021, underscoring a year of rebound as people started to travel again after pandemic restrictions eased.
Tourism spending has also increased, from $51.3 million in 2020 to $74,324,375 in 2021, according to figures provided by the visitor center.
Total gross room sales for 2021 were $7.8 million, an increase of more than $2.5 million from 2020. In 2021, hotel guests spent $23.4 million dollars in gasoline, oil and auto repairs, up from $16.1 million in 2020; $27.3 million in restaurants and clubs, compared to $18.8 million in 2020; $6.3 million in entertainment and recreation, up from $4.3 million in 2020; and $9.4 million in general retail purchases, compared to $6.5 million in 2020.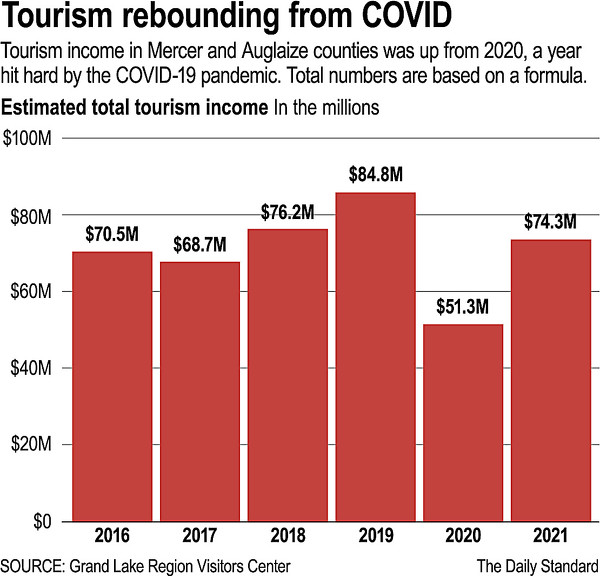 Photo taken by Daily Standard staff
Those dollars help support 3,700 jobs, Grube said. Overall, tourism over the past five years has generated more than $355 million for the economies of Mercer and Auglaize counties.
"We're on track to get back to a banner year in 2021, so that was a big positive," Grube said.
In 2020, during the COVID-19 pandemic, lodging tax collections decreased by 36%. Many visitors to the area in 2020 came to enjoy the outdoor activities, fresh air and improved lake quality, she said.
Use of the lake increased in 2021, Grube said, noting there were no algal toxin warnings in 2021 except for two days at Villa Nova Beach in Auglaize County.
Grube said several tourism investments and developments in the area are underway. They include Boardwalk Village in Celina, Fort Recovery Morvilius Opera House and St. Marys Theater and Grand Opera House, St. Marys Reservoir Mill and Crossroads of Northwest Ohio, a 250-acre development including hotels, restaurants and shops along I-75 in the north. County of Auglaize.
Grube said the Greater Lake Grand Region Visitor Center plans to increase its promotion of tourism. The center will produce five videos highlighting tourism opportunities in New Bremen, Celina, St. Marys, Fort Recovery and Wapakoneta, she said.
Grube said the center has increased its advertising budget for television, radio, digital billboards and video ads.
A number of adverts for all ages are planned in travel magazines. The marketing plan tops $190,000 for 2022, she said.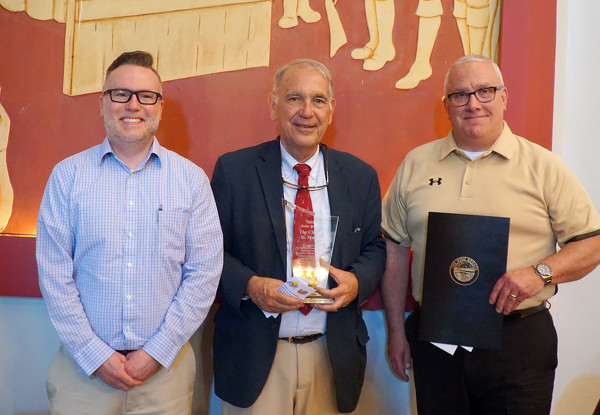 Photo by Leslie Gartrell/The Daily Standard
Moving on to awards, the 2021 Stahr Award went to the City of St. Marys for improvements to the canal corridor and downtown parks.
The city's transformation began in 2009 with the demolition of dilapidated cotton mill buildings, presenters Jackie Martell and Logon O'Neill said.
Lock 13 was uncovered by demolition after being hidden under buildings for over 75 years. Lock 13 has been restored and a scenic pedestrian walkway, lighting, landscaping and informative signage have been added to the area, Martell said.
The path completes a scenic trail that runs from KC Geiger Park in the center of town, past Lock 13 north to the 40-acre pond and Lock 14, they said.
St. Marys also continued to improve the Miami-Erie Canal corridor through Mill Park, which includes the Reservoir Mill building, a playground, rock shelter, landscaping and soon to be home to St. Marys Park' All Abilities.
"It's hard to imagine that this was once, not too long ago, an industrial storage site," Martell said.
The center's Ambassador of the Year award, the agency's highest honor given to an individual for significant contributions to the tourism industry and/or the visitor center, went to Matt Berry.
The Celina resident served as chair of the visitor center board in 2018, and when asked to take over as chair in 2024, he said he would be honored to do so, the presenter said of the Nick Moeller Prize.
"Our 2021 Ambassador of the Year is someone who has really gone out of their way to help promote tourism," Moeller said. "You'd never guess he's the person in the Seymour the Seagull dance costume who has greeted Grand Lake Marathon runners for years, bringing smiles to kids' faces, giving high-5s and encouraging runners to keep running. during the race."
Berry has been recognized for his willingness to go above and beyond the call of duty, from portraying Seymour the Seagull, to taking promotional photos along the Brews-N-Vines Trail to his leadership at the Visitor Center.
Prior to the banquet, Auglaize County Commissioner Doug Spencer and organizer from the nonprofit Friends of the St. Marys Theater and Grand Opera House hosted a tour of the building for guests.
Spencer said the band received a Target of Opportunity state grant of $250,000 and $40,000 in matching funds from the group of friends. Funds from the grant will be used to restore the building's facade, he said.
Work on the building began in the form of roof upgrades and renovations to the ground floor theater. Spencer also released a video showing a 3D concept tour of the building with potential upgrades.
The theater would stay true to its roots, retaining the red and white color scheme and red theater seats that residents may remember from the theater's operational days.
The theater will feature a mix of old and new elements, including digital movie posters and original murals. A popcorn machine from 1951 is being repaired and hopefully can be used again.
While much of the project will aim to revitalize some of the theatre's most iconic parts, organizers are hoping to add an outdoor space that would face South Street. Part of the space would be covered in astroturf and provide space for movies, concerts and other activities, Spencer said.
Organizers hope to have a large door that could open and close behind the existing theater stage, allowing performances to start indoors and expand outdoors towards the green space.
A representative of the Lima Symphony Orchestra attending Thursday's awards luncheon announced that the symphony will kick off the bicentennial of the city of St. Marys on January 22, 2023, with a candlelit harp performance .