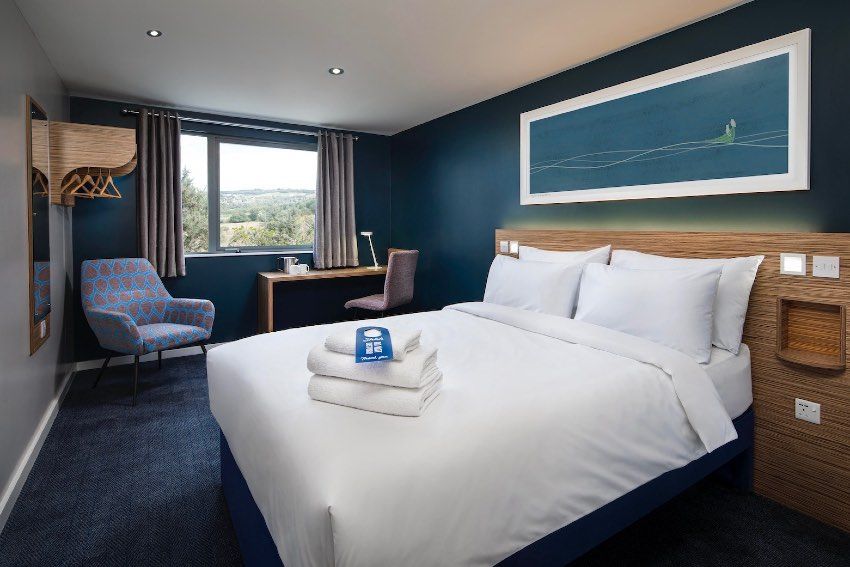 Travelodge to give UK hotels a 'budget-luxury' makeover
Budget brand Travelodge is to give its UK properties a new 'budget-luxury' refresh with 60 hotels set for a makeover in 2022.
The new design was created following the creation of the Travelodge PLUS brand, which has 15 city center properties in the UK.
Travelodge is revamping its "core" brand with a new color scheme for renovated "multi-dimensional" rooms, which will include a desk, armchair, blackout curtains and free Wi-Fi for 30 minutes.
The renovated hotels will also include the Bar Cafe, which offers both a bar and a restaurant, including different areas for work and socializing.
Craig Bonnar, Managing Director of Travelodge, said: "This is our most radical transformation to date and it was created in response to ever-increasing guest expectations.
"Britain is now a nation of budget travellers, with more of us choosing to stay in budget hotels than any other type of hotel and thoughtful, stylish design and homely touches really matter in the world of today when we stay for business or for leisure."
The renovated hotels will also include several sustainable initiatives, including new carpets made from recycled fishing nets, as well as energy-efficient lighting and motion-sensing controls.
Travelodge plans to roll out the new design across its 578 UK properties, with the first five refurbishments due to be completed in April, including three hotels in London, as well as Southampton and Thame in Oxfordshire, close to the company's headquarters.